Home
»
Inside Outside
»
About the magazine
Inside Outside
The complete interiors magazine
About Inside Outside (www.insideoutside.in)
INSIDE OUTSIDE is India's first, and foremost monthly magazine on interior design and architecture.
Launched in 1978 the Business India Group bought it over from its original owners when it had published only 4 issues. The Group turned the magazine around and made it a monthly with content that was more relevant and exciting.
Over the years the magazine has grown to be the bible for the community of Indian architects and the professional interior designer. It is revered for its authority and selection of coverage. Professionals consider it an honour to be published in the pages of this premier interior design magazine.
The magazine focuses on well designed interiors. Be it residential or commercial, INSIDE OUTSIDE covers the exclusive and luxurious, to the low cost and space conscious. Designing on small budgets and problem solving is a special area of editorial interest, and even the lavish apartments featured are replete with ideas that can be emulated in more modest homes.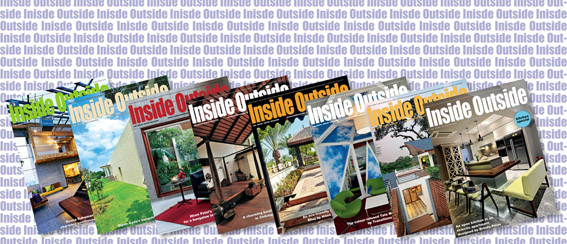 Editorial Coverage:
INSIDE OUTSIDE profiles the outstanding works of established as well as upcoming design professionals thus serving as an important forum where professionals and others in the design field can share their experiences with the reader.
Columns and features on art, craft, new products, furniture, textiles and accessories available, along with reviews on books, exhibitions and seminars and a kaleidoscope of trends, provides valuable information on what's going on in the design field and marketplace.
INSIDE OUTSIDE regularly carries articles on plants and gardens -¬ from small to large terrace gardens and public parks. The diminishing acres of green spaces and the increasing awareness of the environment have promoted INSIDE OUTSIDE to share with readers not only the need but also ways to preserve and develop our natural and botanical resources and foliage.
To keep its readers abreast of the latest international design and architectural trends, INSIDE OUTSIDE features the works of overseas designers and design concepts as well as homes of Indians abroad.
Trend setter
Inside Outside has come to be seen as the place where new trends in architecture and interior design are first discovered, promoted and established. Through its pages it has launched the careers of many a budding professional thereby encouraging fresh talent.