Home
»
Auto India
»
Editorial Coverage
Auto India
The best auto mag ever!
About Auto India
Auto India is India's first all colour monthly auto magazine. Launched in June 1993, AUTO INDIA recognized the need for a lively auto monthly, and was the earliest to take off from the starting line. It pioneered the market and quickly establishing a leadership position among auto enthusiasts & the industry. Each issue has become a 'Must Read'.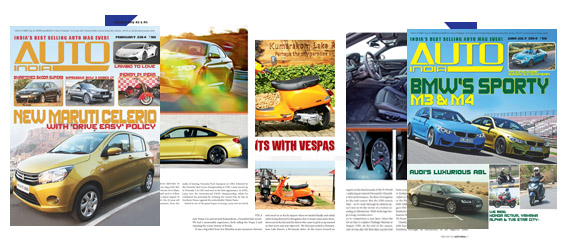 Fuelled by superior content, affordability and wide distribution, and now remodeled – Auto India has over the years has built a loyal band of readers. With its attractive pricing and wide distribution, which reaches far flung parts of the country, where most other auto magazines are rarely seen, it has developed for itself a large and loyal subscription base. Even today, in a cluttered marketplace, readers have remained fiercely loyal.
Keeping with the changing times, Auto India has recently re energised itself in a new avatar; with greater emphasis on the visual element and on the content which is relevant, comprehensive and vastly entertaining, the new look Auto India is more engaging, more inviting, more appealing, more "with it". Its vast repertoire of content caters to not only the auto enthusiasts but even to lay persons who enjoy reading Auto India because of its entertaining and interesting range of fare.
Editorial Coverage:
With one of the most experienced editorial teams driving it, Auto India provides exciting content - content that is insightful, relevant, comprehensive and entertaining, with a greater emphasis on visual elements.
Some of the regular features include:
An informative and comprehensive news section to provide readers the latest news and happeninga in the world of automobiles, both in India and beyond our shores.

A section on new cars and bikes introduced anywhere in the world.

A section devoted to people who have contributed innovations in the auto sector, or who have shown passion associated with automobiles.

Interviews with celebrities and heads of automotive majors, where readers are exposed to the lesser known aspects of their lives.

Our extremely experienced editorial team drives, analyzes and evaluates cars and bikes in every issue. They present their insightful and unbiased findings in a reader friendly format. Using state of the art test equipment to gather all the relevant performance data, readers have access to credible information to help with their buying decisions.

Resident vehicles also undergo long-term tests. The experience of living and driving these vehicles is recorded and this section provides a very realistic virtual ownership experience.

A section on used cars - where the reader receives expert advice on what to look for and how to go about buying various models of pre-owned cars.

A dedicated touring section devoted to the Great Drives that our vast and amazing country has to offer. It throws open the passage to the delights of driving holidays and provides accurate, useful and practical information on road routes, destinations, hotels, activities, etc.

Speedy action and all the high speed drama from the world of motor sports is regularly featured. Action on the track, behind the scenes, and the hidden lives of heroes all packed into an enjoyable section of competition and action.

Gadgets and gizmos, auto products and gear, and all that is desirable or useful for an automotive owner and auto enthusiast is featured every month.

A panel of well known personalities contribute thought provoking points of view via their regular columns.

And a panel of well established foreign correspondents contribute amazingly exciting international automotive features.